When we are looking at a home, we want to make sure that it is in a good neighborhood, the home is structurally sound and it doesn't have a pest infestation. However, sometimes we can't have everything we want and we may have an issue. Just because there is an issue, doesn't mean you don't buy a home. But, it depends on what the issue is and if the problem can be eradicated. Should I buy a house with powder post beetles? It is advised that you reach out to a pest control company to take a look at the damage to the home so you know whether it is a good idea to buy it or not.
Let's take a look:
What is a Powder Post Beetle
Powder post beetles are a less than 1/4 inch in length and a reddish-brown to black in color. A slim Insect, it is in the shape of the letter C and has larvae that is cream or white in color. This beetle comes from the Lycitdae beetle family and like to eat lumber and dry wood which then becomes powder – hence where they get their name. Only the termite does more damage than a powder post beetle.
Signs You Have Powder Post Beetles
These very sneaky wood boring beetles are hard to find and their larvae look like very tiny pinholes. When these pinholes are made on the wood surface, they turn to sawdust called frass. Sometimes people think that the frass is dust or dirt so they don't understand the damage the pests are doing or have done. These beetles can also damage hardwood furniture. If you have antiques or heirlooms, this is not something you want in the home.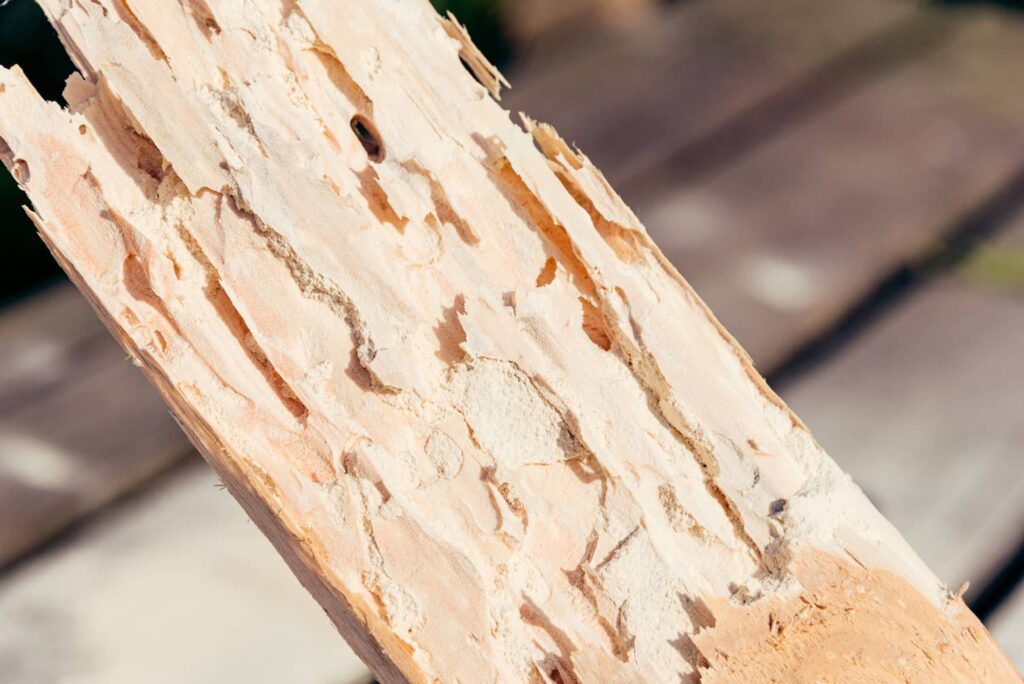 Do Powder Post Beetles Cause Structural Damage to a Home
Unfortunately, the answer is yes that powder post beetles are wood destroyers and cause structural wood damage. This is because they attack hardwoods like oak, as well as softwoods like pine. Many homes are made of softwood so destruction is inevitable. Additionally, they are a lot like termites but only faster! This is also because their larvae eats the wood, thus there is damage to support beams and furniture.
How to Know If You Have a Powder Post Beetle Infestation
If you hear feeding or see new pin holes on wood surfaces, then you may have an active infestation. Sometimes you may see pin holes or powder but they are old. If you are not sure, the best thing to do is call a pest control company to check it out.
How to Treat For Powder Post Beetles
If you find powder post beetles, you can usually remove the infested wood and have your home treated. You may also need a liquid insecticide or something that a pest control company uses to eradicate the pest. The insecticide will work to kill the various stages of the larvae as it comes out from the wood.
If the damage is on furniture, you can fumigate that in a chamber or special vault. However, tenting and fumigation is usually for infestations that are pretty severe.
How Much Does It Cost
It depends on what is needed to treat and get rid of the powder post beetles. Pesticide from a company could run about $500 to $5000 depending on frequency, but also if fumagation is needed. Call a pest control company to take a look at your issue and help create a plan of these pests.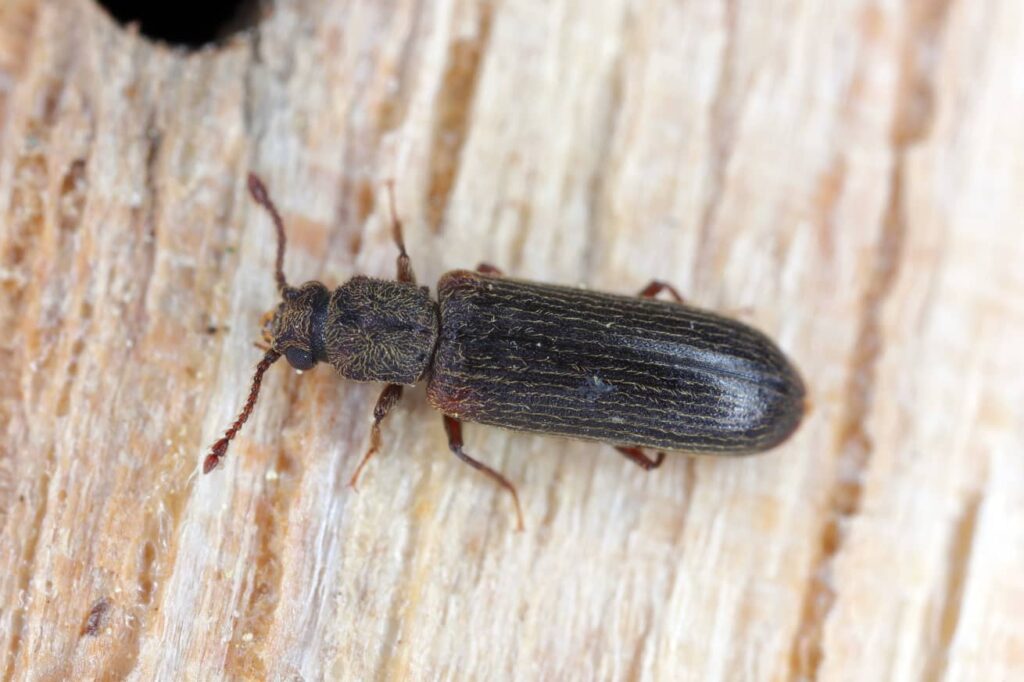 Recommended Maintenance
Sometimes it is difficult to notice the difference between a drywood termite and a powder post beetle. Keep an eye out for drywood termites, as you can find them along the coast from California to Florida. To get rid of drywood termites, treat the wood with Boracare and the other solution is to use FiPro Aerosol.
Another area to keep an eye on is silverfish. if you are keeping cardboard boxes or books in your garage, you could be attracting silverfish. While they won't harm you, you don't want to provide a food source for them in a moist area. Other areas to watch for them is mulch, leaky gutters, and wallpaper.
Lastly, keep an eye on mold in the home. Unfortunately, mold in the basement can affect the upstairs if there are other areas of the home that are damp and the mold spores grow. The mold then can travel through the vents and up the stairs.
When to Call a Professional
Call a professional when you see an infestation or if you need help In keeping the pests away. Don't feel like you have to take it all into your hands. Also, a professional can help look for signs of this pest at your new home. Contacting a local pest control company is the way to go. They can help you find out where they are coming in and how to fix the issue.
Conclusion
Powder post beetles can cause a lot of damage but if you catch them early enough, you can spare your home. If you need help getting rid of them, calling a professional is the next step. Enviroquest will be able to determine your pest service needs and offer the best preventative maintenance for future pest issues. Call on Enviroquest Home Inspections for a mold inspection and complete home inspections in Harrisburg, PA.