When it comes to owning a home you have a variety of ways that you can personalize your purchase. For some homeowners, before they even purchased the home, they were looking at many amenities and upgrades currently in the home. While homes can come with very nice features, not all homes come decked out and equipped. A new home build will often come barren of any privacy on your windows. The homeowner has to purchase some sort of shutters or blinds to keep people from seeing in. One of the more up-to-date and fancier shutters that you can purchase is called a plantation shutter. What are plantation shutters? They are shutters that originated in the American South and have tilted wooden louvers.
Let's take a look below at some more details regarding plantation shutters.
What Are Plantation Shutters Made Of?
Believe it or not, you can get plantation shutters made of various types of material. The choice of material will determine how much you will spend on your shutters. Let's take a look below at what the choices are for shutter materials.
Affordable basswood – This type of material is durable with a smooth finish once it is painted. Also, this wood is a very economical choice as it is highly accessible. Typically, they come in white, neutral, or grey colors.
Classic poplar wood – This material has a smooth, even grain, and is fast-growing. Also, it is considered beautiful, strong, and lightweight. Lightweight is desirable for use in large window areas. You can choose from a variety of stain colors.
Premium elm wood – Elm is considered one of the most elegant woods on Earth. This wood brings out a room with its natural finish. Also, Elmwood has a very sophisticated look to it.
Waterproof polyvinyl – Due to it being waterproof you will often see this wood material being installed in kitchens and bathrooms. Additionally, they are installed in high-traffic areas of a high, such as a playroom. They are excellent at keeping moisture out.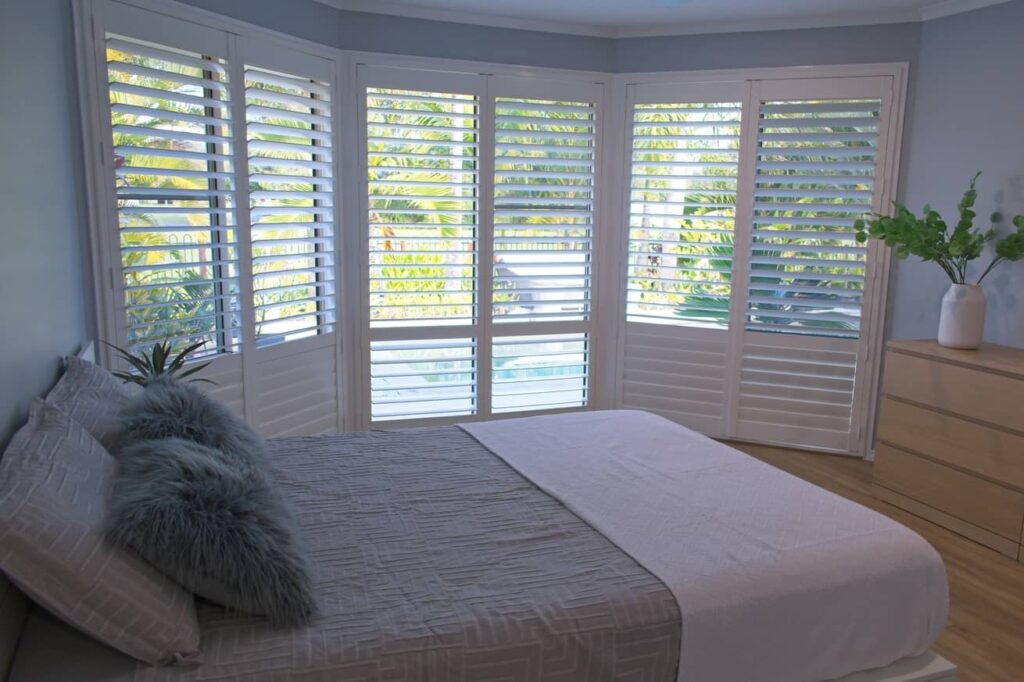 What Are The Styles Of Plantation Shutters?
Shutters can come in a variety of different styles. The reason for the various styles is due to the various styles of windows in a home. Many homes have large, medium, and small window frames. Also, they have arches or bowing-type windows. So, the styles should fit the window frame. Let's take a look below at what those styles are.
Solid shutters – A solid plantation shutter is excellent for complete privacy. Additionally, they are able to act as a noise barrier because of their thickness. Consequently, they are the coziest and most secure plantation shutter styles.
Full-height shutters – This style covers the entire window. The style has clean lines and a simple look. A full-height shutter is also versatile as it can be fitted with a mid-rail. Also, it can split the way the slats will function.
Cafe-style shutters – This plantation style is used only on the lower part of a window frame. This style allows for natural light to shine through the top of the window, while the bottom window is kept private and shaded.
Tier-on-tier shutters – This style is installed in two frames. You will have a top tier and a bottom tier. This allows you to open up one or the other section to allow for natural light to come in. One window type that you would likely see in this style of plantation shutter is a bay window.
How Many Benefits Are There To Installation Plantation Shutters?
Homeowners will install plantation shutters in their homes due to the many benefits that are provided. Let's take a look below at what those benefits are.
Privacy and light control – Depending on the style of plantation shutter that you install will determine how much or how little natural light you will have coming into your room. Additionally, they will provide a great amount of privacy.
Improvement of sleep – Plantation shutters will minimize the entry of light better than blinds or curtains.
Reduce noise pollution – Due to the thickness of the plantation shutters, the sound is quickly absorbed and the noise from outside of the home is virtually eliminated.
Keeps the heat in – Plantation shutters when properly installed are sealed up tight and will reduce the draught coming from your windows.
Ventilation while staying private – Since you are able to open and close the slats on the plantation shutters, you can keep the room properly ventilated and your home privacy intact.
Property value increases – When you maintain your plantation shutters they can bring an increase in curb appeal to your home. This in turn creates an increase in the value of your home.
Elegance and class – The sheer design and style of a plantation shutter immediately give your home an aesthetic value of elegance and class.
Other Recommended Maintenance
Now that you have an understanding of what plantation shutters are you will want to read up on how to measure for shutter installation. Knowing the proper steps for getting your width and height will help minimize measuring mistakes down the road.
Next, as you're looking into shutters for your windows, also consider increasing your window space in the attic. Attics can get very hot in the summer and having a way to help ventilate the attic might be helpful.
Lastly, before you install any expensive shutters, be sure to check and see if your windows need to be upgraded. You will want to know how long it takes to replace a window so that you can place your shutter order in a timely manner.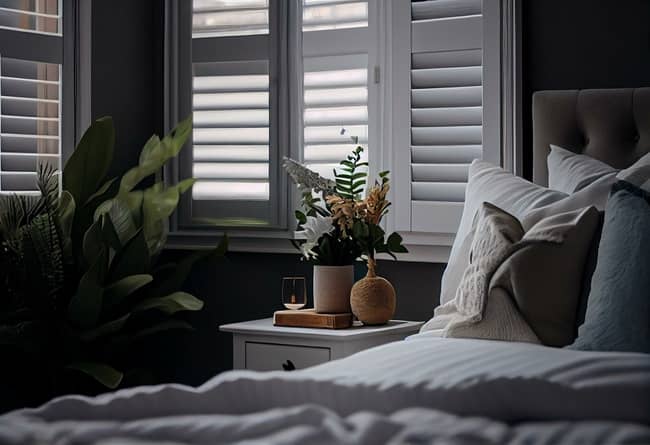 When Do I Call A Professional?
Anytime you are dealing with plantation shutters you will want to ensure that you hire the right installation company. In many cases, the manufacturer of a custom shutter will likely have an installation crew. This ensures that their product is installed correctly. Additionally, you can reach out to your local home inspection team. They can check your window frames to ensure that they aren't damaged and can support the weight of the new shutters. Also, they can recommend a reputable plantation shutter installation team.
Conclusion
Getting new plantation shutters for your home can be an exciting thing. The idea of total privacy with the capability of allowing natural light to come into your home in various rooms is great. However, installing them incorrectly could do damage to the shutters and window frames. Call on your local home inspection team to ensure that your window frames are built to hold the weight of your new plantation shutters. Reach out to Enviroquest Home Inspections for a look at your window frames during a home inspection in Harrisburg, PA.