Owning a home can provide you with an endless amount of options for upgrades and new amenities. Each homeowner has a varying idea of what they would like their home to become. Entertaining or just creating a relaxing space is often a variation of each homeowner. Some homeowners even enjoy saving money by completing every project as a do-it-yourself task. Keep in mind that not all projects should be completed by a homeowner. Also, you will want to use the most experienced contractor available to ensure the project is properly completed. Additionally, when it comes to concrete installation, you should use a professional. How thick should a concrete patio be? Typically, a concrete patio slab should be poured 4 inches thick and have a strength of up to 3,000 psi.
Let's take a look below at what else is involved with a concrete patio.
What Tools Do I Need?
With any project, there are tools and materials needed to complete the task. Let's take a look below at what tools are needed to complete the installation of a concrete patio.
What Materials Do I Need?
In addition to tools, you will need the materials necessary to complete the project. Let's take a look below at what is necessary to complete this task.
Concrete mix or ready-mixed from a concrete truck
2×6 or 2×8 form board
Crushed stone
1-1/2 inch x 1-1/2 inch x 18-inch wooden stakes (needed to lock form boards in place.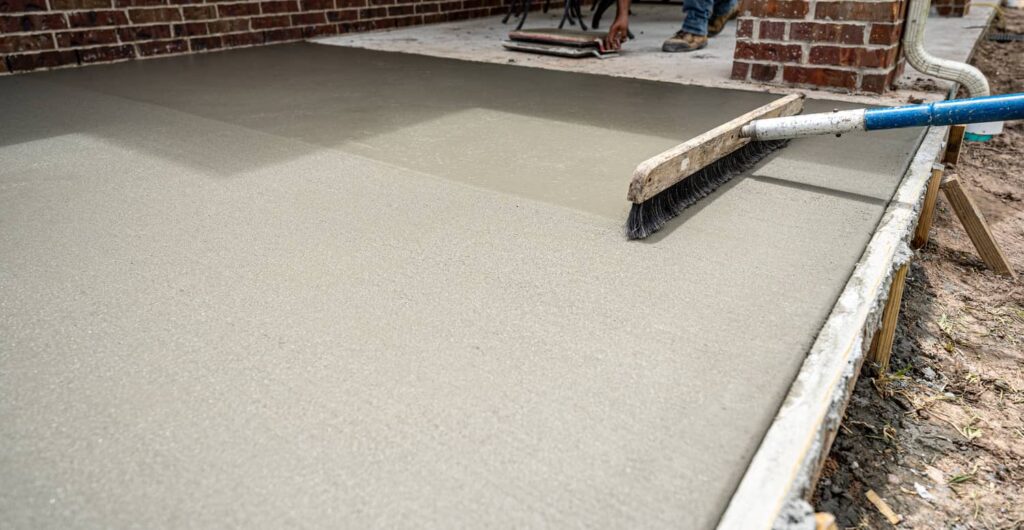 How Do I Know How Thick To Pour It?
Depending on the way you will utilize your concrete patio will determine how thick you will want the concrete poured. Consequently, according to most building codes, you will need a minimum of 3.5 inches thick and a compressive strength of 3,000 psi.
Also, keep in mind that most concrete slabs are poured a minimum of 4 inches thick. Consequently, you will want to consider how much rebar is needed for reinforcement and what the patio is used for. This ensures that the concrete patio doesn't crack under pressure. Let's take a look below at some other determining factors.
Tensile strength – This will be affected by the type or amount of reinforcement utilized.
Use of the space – What will be installed on top of the patio can determine how thick it should be poured.
Weight of the concrete patio – The weight of the slab itself needs to be considered. Is the ground properly prepared to handle the amount of weight being placed on top?
Size – The size of the concrete pad in square footage being poured factors into how think you can afford to pour it.
Compression – Keep in mind that the compression strength can determine how much concrete is necessary for a successful patio pour.
The more weight that you plan to place on top of the concrete patio would suggest that you increase your compressive strength to 5,000 to 6,000 psi. Also, weak topsoil will require you to add a gravel base to support the weight of the slab thickness. The inches of gravel will be based on the gap in the ground and leveling of the concrete slab.
Other Recommended Maintenance
Now that you know how thick your concrete patio should be you can read up on if you can pour concrete in the rain. Hiring a contractor that doesn't know the rules of concrete pour could cost you a lot in repairs. Consequently, you will want to get multiple quotes and recommendations from previous customers of the contractor that you hire.
Next, if you are installing a concrete patio deck, make sure to check the location of your downspouts. Also, you don't want your gutter system spewing rainwater all over your new concrete patio deck.
Lastly, pouring a concrete patio deck is likely to occur in the summer months, as the best time to pour concrete is when it is warm. Consequently, if you are working on new summer projects, consider your attic space. Additionally, the heat that collects in the attic space in the summer months could be unbearable. Also, it is important to know how hot an attic can get in the summer so that you can add fans or added circulation.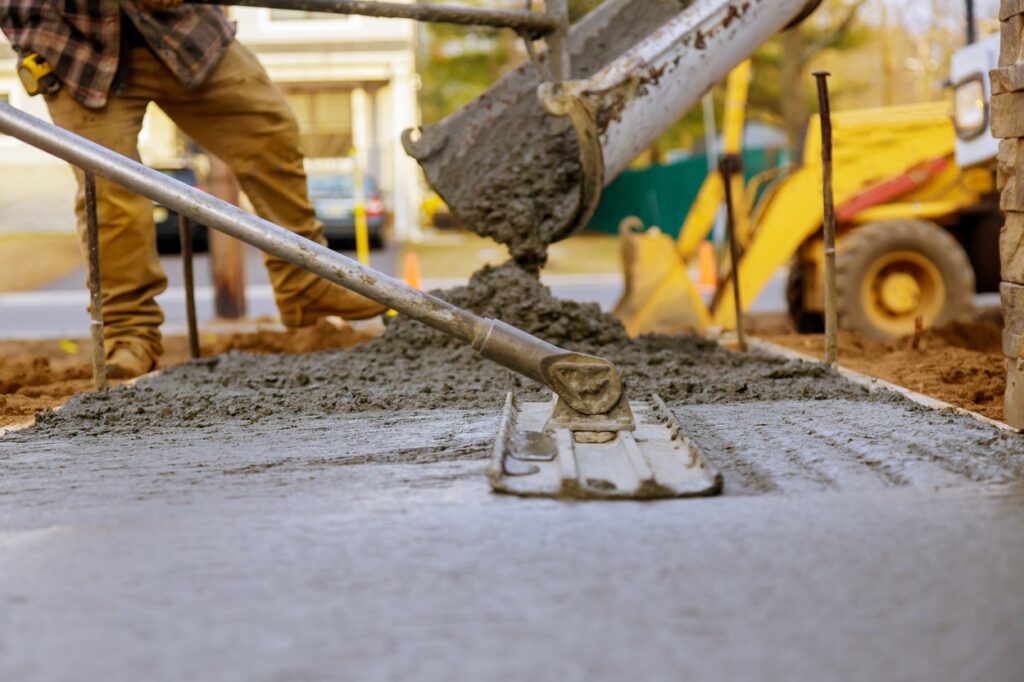 When Do I Call A Professional?
Pouring a concrete slab patio is a fairly simple do-it-yourself project. However, it's not always the easiest and should be done with multiple people helping to complete the project. Additionally, you will want to call on your local home inspection team to take a look at the landscape and surrounding areas of the home to ensure the patio is installed in a good location. Also, they can recommend a reputable concrete patio installation contractor.
Conclusion
Installing a new concrete patio is a great idea for increasing outdoor activity options and adding to the aesthetic value of the home. Additionally, keep in mind, this project must be completed correctly or an exciting project can turn into an eye sore. Also, if you have no experience working with concrete, then you will want to call on a professional concrete installation contractor. Not sure who to call?
Consequently, call on your local home inspection team to get some reputable recommendations. Additionally, they can inspect the landscaping and the foundation of your home to determine the best location for your new concrete patio. Reach out to Enviroquest Home Inspections for a look at your concrete patio location during a home inspection in Harrisburg, PA.