Owning a home comes with a lot of possibilities. As a homeowner, you have the capability to make your new home space your own. Changing the way a home looks on the inside and out is part of what is exciting about owning a home. For many homeowners, changing the way the flooring looks is the first step. Flooring can make a room very inviting and open with the right flow of material. In some cases, a homeowner will decide to blend flooring materials such as tile and wood. Wondering how to combine tile and wood flooring? Consider the look that you want and the aesthetics that it will provide to the space.
Let's take a look below at what you need to consider before you start this project.
Where Do I Start?
To begin, there are a few necessary steps that are required before you just determine to transition from tile to wood flooring. You wouldn't want to go into this blindly and on a whim. Having a plan is most important. Let's take a look at a few recommendations before jumping into a flooring transition.
Color and Style – Be sure to select the right color and style that will match the flow of the rest of the room.
Transition – Determine which transition style works best for your concept. The idea is yours, but having a smooth transition will only help bring the idea to life.
Professional – Hire a professional interior designer to consult and determine what will look the nicest and most natural transition. Having an open floor plan allows your floor design to use various methods such as transition strips of hexagonal tiles to create a stunning look.
What Should I Consider?
When it comes to projects like flooring, you will want to have a plan in place. There are areas to consider that should be planned out before you just work on the concept of a tile-to-wood transition. Let's take a look below at what you should consider before starting the project.
Tile Inlays – These allow you to change the tone of any room. Additionally, they provide a great transition from your hardwood flooring frames to provide a textured look.
Metal Transition – Metal transitions are often used in areas where the carpet meets the tile. Also, consider a metal transition where tile meets wood. You will often see this transition in mudrooms to the hallway or laundry rooms to the living room area. Straight-line metal transitions will separate spaces between the ceramic tile and wood floor.
Dark Wood to Light Tile – Using a transition of dark wood to light tile is very eye-opening. As your guests walk in, they will comment on the amazing flow of the two tones between the wood and tile flooring.
Gloss Mosaic Tiles – This type of transition is an old-school way of using a border to transition from one flooring type to the next. This is a great way to mix tiles and wood flooring.
Other Recommended Maintenance
Now that you know how to combine tile and wood floors, you can read up on whether or not vinyl flooring expands. Knowing this is important if you are choosing a vinyl wood floor to combine with your tile.
Next, if you notice that you or your contractor has accidentally stained your hardwood floors during the installation of your tile floor, you will want to read up on how to remove stains from your hardwood floor. Knowing this will save you money as you save the wood floor from having to be replaced.
Lastly, while you are on the topic of flooring, consider upgrading or adding a new patio space. Pouring a concrete pad off the backside of your home could create a huge opportunity for outdoor fun and entertainment. Make sure to consult how thick the concrete patio should be so that you are not caught spending extra on yards of concrete.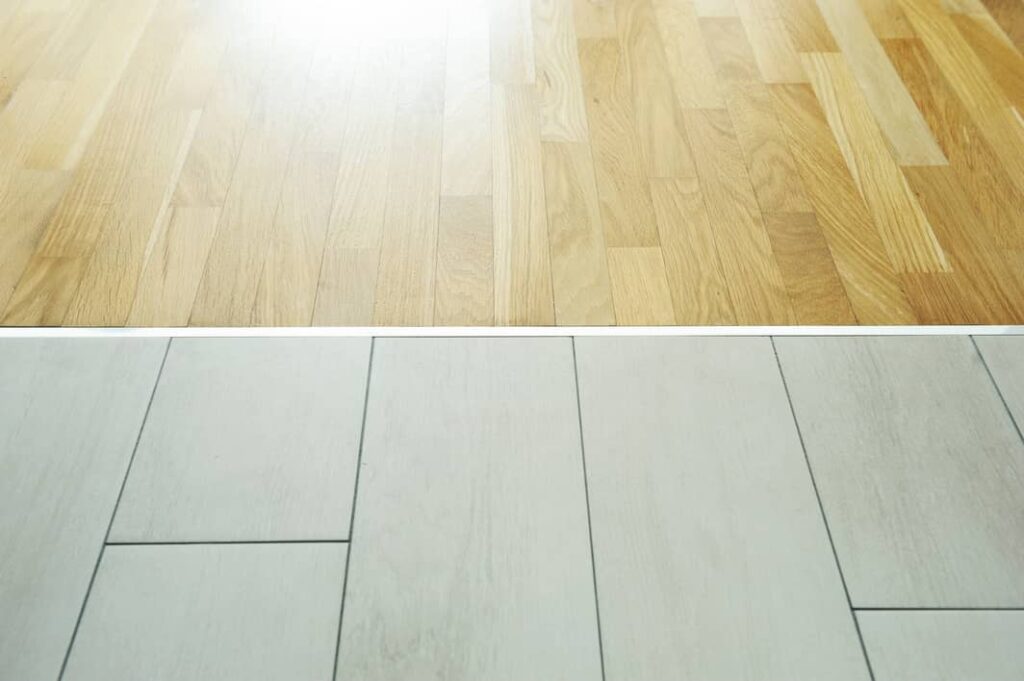 When Do I Call A Professional?
Dealing with flooring installation can be a difficult project. Hiring a professional contractor with flooring installation experience is always the best idea. Especially, if you are attempting to blend one type of flooring with another type of flooring. Having the knowledge and experience for this project will save you time and money. Call on your local home inspection team to get a flooring inspection and to determine what the best flow of flooring will be. Combing tile and wood can be a clean and classy look if done properly. Also, your home inspection team can refer you to a reputable flooring installation company.
Conclusion
Creating a masterful flow of tile-to-wood flooring transition can be an exciting project. Doing it correctly will create such an aesthetically pleasing room. Keep in mind that doing it incorrectly could seriously change the feel of the room. Call on your local home inspection team to assist with determining what best fits the room you are looking to combine. Additionally, they can recommend a reputable flooring installation company. Reach out to Enviroquest Home Inspections for a look at your flooring options during a home inspection in Harrisburg, PA.